Western New York's Premiere Balloon Company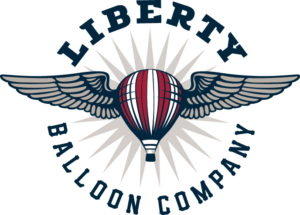 Hot-air balloon rides over the Finger Lakes Wine Region,
Letchworth Park area and scenic locations
across Western New York
Balloon Rides
With a home base near Rochester New York, Liberty Balloon Company offers hot air balloon ride packages near Rochester, Buffalo, Syracuse, Niagara Frontier and the entire Finger Lakes Region of Western NY. This includes not only Canandaigua, Seneca, Keuka and all the lakes, but also the spectacular Letchworth State Park area.
Our pilots are among the most experienced in the entire region, and Liberty Balloon Company has an outstanding record for safety. Western New York has been our home for generations, and we look forward to sharing our love of ballooning and our state with everyone who steps into our gondola!
Liberty Balloon Company offers training, tether events and parties, corporate promotions, wedding packages and school assembly programs—and Liberty Balloon Company is one of the few balloon operations in the country whose pilots and staff have extensive experience in each of these categories.
So whether you check a ride off your bucket list, or you want a specialized balloon program…allow Liberty Balloon Company to host your thrilling hot air balloon experience!
May the winds welcome you with softness.
May the sun bless you with its warm hands.
May you fly so high and so well
that God joins you in laughter
and sets you gently back again
into the loving arms of Mother Earth.
The Balloonist's Prayer | Origin Unknown
"Once you travelled, the voyage never ends,
but is played out over and over again
in the quietest chambers. The mind
can never break off from the journey."
"Twenty years from now you will be more disappointed
by the things you didn't do than by the ones you did do.
So throw off the bowlines, sail away from the safe harbor.
Catch the trade winds in your sails. Explore. Dream. Discover."